Perthshire raised kite's killing near Aboyne probed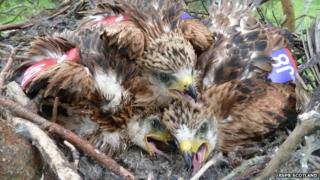 A red kite raised and tagged in Perthshire has been found dead near Aboyne in Royal Deeside.
Police have launched an investigation after a post mortem examination revealed the female bird was killed illegally.
RSPB Scotland has also appealed for information.
The kite, known as Red/Blue 44 after the colour combination and number on its wing tag, hatched in 2010 and bred successfully in 2012.
RSPB Scotland said the bird had raised three chicks close to where it was found dead.
The charity's head of investigations, Ian Thomson, said: "Despite a Scottish re-introduction programme that has been going for 24 years, the red kite is still a rare breeding bird here.
"It is one of our most spectacular and unmistakeable birds of prey, with its main diet being carrion, insects or small mammals."
He added: "It is unforgiveable that someone could deliberately target such a fantastic bird, and I ask anyone who may be able to assist in bringing the perpetrator to justice to contact the police."
Police Scotland's local wildlife crime liaison officer, PC Mike Whyte, added: "Local enquiries have so far failed to identify a suspect for this.
"We are appealing to the public for information that may assist us in our inquiries."