Public meeting over Keenan wood chip fire in New Deer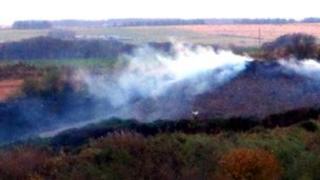 A fire that burned at a recycling plant in Aberdeenshire for several months has been the focus of a public meeting.
A pile of wood chips went on fire at Keenan Recycling near New Deer in June last year, but it was deemed too environmentally hazardous to extinguish.
The pile was fully dismantled to allow it to cool in April.
The public meeting was held at New Deer Public Hall from 19:30.