Salmon farmer convicted over seal risk nets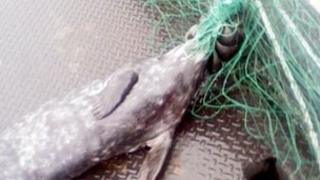 A Shetland salmon farmer has been convicted of using nets which could kill grey and common seals.
Graham McNally, 52, was the first person in the UK to be convicted of using nets for the purposes of trapping and killings seals.
He was charged under the Conservation (Natural Habitats) Regulations 1994 and fined £800 at Lerwick Sheriff Court.
McNally pleaded guilty to using two illegal nets around salmon cages in 2011.
The Crown Office said salmon farmers were encouraged to deter seals seen around their fish "by using non-lethal measures".
Information had been received by the Scottish SPCA that nets had been placed around a number of salmon cages at two salmon farming sites in an effort to kill seals which had been attacking fish.
An examination of the two nets concluded that the design of the nets was such that they were likely to catch and kill seals.
Craig Harris, procurator fiscal, wildlife and environment, said: "Seals are protected by law and may only be killed or taken in accordance with a licence.
"To do otherwise is a serious offence that will not be tolerated."
Scottish SPCA Ch Supt Mike Flynn said: "We welcome today's conviction, which is a landmark for seal conservation in Scotland and the UK.
"Common seal numbers are decreasing and the illegal trapping and killing of seals is contributing to their decline."