Heriot-Watt divers off Orkney explore life of horse mussels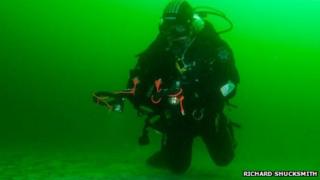 Divers taking part in an expedition off the coast of Orkney hope to learn more about large horse mussels.
The team from Edinburgh's Heriot-Watt University's School of Life Sciences is researching the habitat of the mussels, which are said to be as big as size nine shoes.
The mussels can live for several decades, and horse mussel beds provided shelter and feeding for other species.
The team hopes to complete 100 dives over the next two weeks.
The university's Dr William Sanderson said: "We're really looking forward to documenting these biodiversity hotspots off the coast of Orkney where tens of billions of organisms can be found living on just one horse mussel reef."