Equestrian paralympian Jo Pitt dies aged 34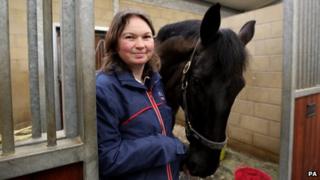 Paralympian Jo Pitt has died at the age of 34, it has been announced.
Pitt, who lived in the Huntly area of Aberdeenshire before moving to Norfolk, was being treated for a lung condition.
She was part of the Great Britain para-dressage team that won gold at the 2010 World Equestrian Games in Kentucky.
British equestrian performance director Will Connell said: "I would like to extend our condolences and deepest sympathy to Jo's family, fiance and friends at this sad time."
He explained: "Jo was a stalwart of para-equestrian dressage and has fought hard over the last year to establish herself once again as a real medal contender for Great Britain."
'Beloved daughter'
David Hunter, British para-equestrian dressage performance manager, said: "It is difficult to comprehend that 10 days ago Jo was her fit and healthy self, training her horses each day and determined to make selection for the European Championships in August.
"She had recently moved to Norfolk and had just moved into a new family home.
"She had everything going for her. She will be greatly missed and never forgotten."
British Dressage chief executive Amanda Bond added: "Everyone in the dressage community will be shocked and saddened by losing Jo so suddenly.
"Our hearts and prayers go to her family and friends, especially her parents Bob and Hazel, who dedicated so much to their beloved daughter. No-one was more proud each time she rode."
She had right-sided hemiplegic cerebral palsy, which affected the feeling and mobility down her right side.
Pitt missed out on selection for the London Paralympics last summer.