Sex fraud woman put on probation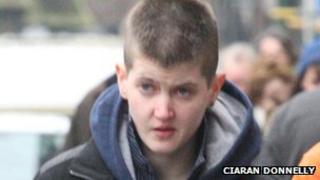 A woman who posed as a man so she could have sexual relationships with two teenage girls has been placed on probation for three years.
Christine Wilson, 25, from Aberdeen, was also ordered to carry out 240 hours of community service and placed on the sex offenders register.
The judge said he had not jailed Wilson, who has Gender Identity Disorder, because she pleaded guilty.
Her two victims, who cannot be named, were both under the age of consent.
The offences took place in 2008 and 2010.
Gender Indentity Disorder, or gender dysphoria, is a medical condition in which a person feels there is a mismatch between their physical and psychological gender identity.
Many people with gender dysphoria decide to live according to their psychological gender identity.
Christine Wilson, who is also known as Chris, has lived as a man since childhood.
In sentencing at the High Court in Edinburgh, Lord Bannatyne said: "These are very unusual offences. I have accepted that you genuinely feel that you are male rather than female. I believe this obviously significantly reduces your culpability.
"I believe that this can be dealt with by the imposition of a probation order."
Gender history
The Equality Network - an organisation working for lesbian, gay, bisexual and transgender equality in Scotland - criticised the Crown Office's decision to prosecute Wilson for "obtaining sexual intimacy by fraud".
Tim Hopkins, director of the Equality Network, said: "Chris Wilson broke the law by having sex with the 15 year-old girl who had claimed to be 16.
"But he was not charged for that, instead the charge was 'obtaining sexual intimacy by fraud' because in the Procurator Fiscal's eyes he had 'lied' about his gender.
"It was the wrong charge to bring, and the message it sends to trans people is you will be criminalised if you don't share your gender history with sexual partners."
The Equality Network said they had written to the chief public prosecutor, Lord Advocate Frank Mulholland, asking for a meeting to discuss the implications of the case.