Lifeboat for Stonehaven gets 'huge show of support'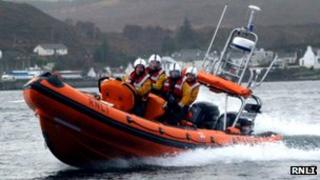 A new inshore lifeboat station for Stonehaven has received a "huge show of support", the RNLI has said.
BBC Scotland earlier revealed the Kincardineshire town was to get lifeboat cover, as a result of the closure of the local charity Maritime Rescue Institute (MRI).
An Atlantic 85 lifeboat will be based there.
A public meeting on Thursday evening was attended by about 100 people, with a search for crew volunteers under way.
The age range is from 17 to 50, and they should be able to reach the station within five minutes of their pager being activated.
Paul Jennings, of the RNLI, said: "We are absolutely delighted with a huge turnout from people in the Stonehaven area.
"The RNLI still remains keen to hear from anyone who could not attend the meeting."
No option
The MRI announced in February it was being forced to close its doors after failing to recover from storm damage.
The institute said it was left without any boats in the water after its base at the harbour was deluged in last December's storm.
The charity said it had already been struggling with falling donations.
Its board decided there was no other option but to close down.
Its withdrawal left the Kincardineshire coast being covered only by the RNLI's lifeboats at Aberdeen and Montrose.