RAF Lossiemouth loses Joint Strike Fighter bid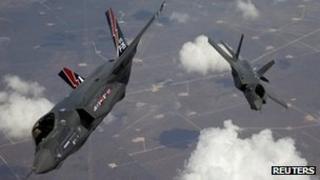 Lossiemouth in Moray has lost out in its bid to become home to the RAF's newest aircraft.
The Joint Strike Fighter will instead be based at RAF Marham in Norfolk.
The Ministry of Defence also said that RAF Lossiemouth would now be getting new Typhoon interceptor aircraft in the summer of 2014, about six months later than had been expected.
Two Typhoon squadrons are being transferred from RAF Leuchars in Fife.
RAF Leuchars will cease to be an air base by autumn of next year and will be used as an army base.
Angus Robertson, SNP defence spokesman and MP for Moray, described the news that the Joint Strike Fighter would not be based at Lossiemouth as the "latest blow to the beleaguered defence establishment in Scotland".
He added: "This follows a three year review, and we also learn today that there is to be a delay in the deployment of the new Typhoon aircraft to Lossiemouth until the summer of 2014 - it all starts to look like another Westminster 'omnishambles'."