Appeal as 'dumped rabbit' killed in Moray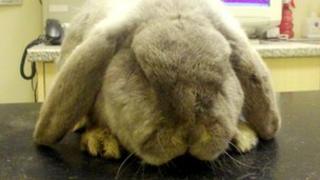 The Scottish SPCA has appealed for information after one of two rabbits apparently abandoned in Moray was run over and killed.
A rabbit was seen on the B9016 Keith to Buckie road, and a dead one was found when the charity arrived.
The surviving rabbit - named Marius - is now being cared for.
Scottish SPCA senior inspector Lesley Crockett said: "French lops are distinctive rabbits so it's possible someone may recognise Marius."
She said: "It appears both rabbits were abandoned in the lay-by, which is approximately half way along the B9016.
"In my opinion, whoever dumped these rabbits couldn't have cared whether they lived or died.
"Marius is extremely lucky he wasn't injured or killed."
She added: "However, he is emaciated and his coat was badly matted. It's possible someone may recognise Marius and be able to tell us who owned him."