Wreath tribute for 1953 Fraserburgh lifeboat disaster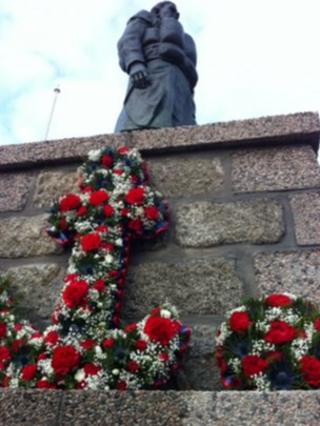 A ceremony has been carried out to commemorate a lifeboat disaster off the north east coast of Scotland which claimed the lives of six crew.
Six men were killed when their lifeboat capsized within sight of Fraserburgh harbour in 1953.
A wreath was laid at sea by the widow of one of the men who died.
The Fraserburgh lifeboat had been helping fishing boats back into port when it capsized in heavy seas. Only one of the seven crew members survived.
Lifeboats have operated out of Fraserburgh for 200 years and the fishing port has suffered several tragedies.
On 9 February 1953 warning rockets were fired, calling the Fraserburgh volunteers into action.
Rough seas were preventing fishing boats coming in to harbour and the lifeboat began escorting vessels to safety, but was battered by large waves.
Frances Hepburn lost her 23-year-old husband John Buchan in the tragedy. She went out in the present-day lifeboat to lay a wreath, along with two of her sons.
Fraserburgh has lost another seven men in two other lifeboat disasters, in 1919 and 1970.
Vic Sutherland, current coxswain at the town's lifeboat station, said: "Unfortunately the history of the lifeboat in Fraserburgh has been blighted by three major disasters.
"This is a sombre occasion as we recall the events of 9 February, 60 years ago, when the whole town and the surrounding area was affected by the appalling tragedy, the like of which we hope we will never see again."