Iceland goes it alone on mackerel quota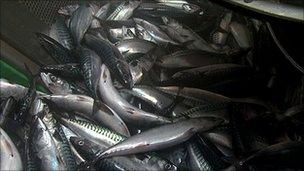 The Icelandic government has announced that it is lowering its mackerel fishing quota for 2013 by 15%.
It said the move is part of the country's commitment to the "long-term sustainability" of stocks.
The European Commission has said it "regrets" Iceland's announcement of a unilateral quota.
The Commission said it remained committed to seeking a multilateral solution with the non-EU countries that fish the Atlantic.
Steingrimur J Sigfusson, Iceland's minister of industries and innovation, said: "Iceland is taking fewer mackerel from the sea in 2013.
"The 15% reduction in the weight of our catch aligns with the recommendations from international scientific experts.
"Our 2013 mackerel quota continues our efforts to help preserve the mackerel stock, which is our top priority."
A statement from the Icelandic government said it was committed to seeking a "diplomatic resolution" to the mackerel issue.
The European Commission issued a statement in response.
"The Commission regrets Iceland's announcement of a unilateral fishing quota for mackerel," it said.
"We regret that Iceland has decided its own quota unilaterally and not in consultation with its partners, for yet another year.
"Iceland's claim to reduce its quota conceals the fact that Iceland's unilateral quota remains excessively high, before and after the reduction."
The Commission added: "Science is clearly pointing to the need to reduce catches of mackerel."
Much of the UK mackerel fishery is based in Scotland.
Richard Lochhead, the Scottish government fisheries secretary, said: "It is disappointing that Iceland remains intent on taking an excessively large share of the TAC (total allowable catch), a greater share than Scotland, despite their short history in the fishery.
"This will continue to damage our most valuable stock and an opportunity has been missed to show willingness to help bring this dispute to end."
Related Internet Links
The BBC is not responsible for the content of external sites.