Independent Aberdeen music store OneUp closing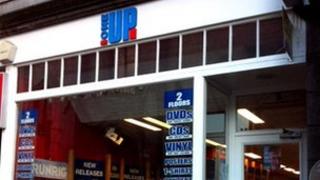 Independent Aberdeen record shop OneUp is to close at the end of trading on Thursday.
The store in Belmont Street has suffered a downturn in trade in recent years, partly due to the rise of downloaded music.
Its owners announced the business was in difficulty last October.
About 4,000 people signed up to an online campaign to save it, but it was decided it would close at the end of the month.
A statement on the shop website earlier said: "It is with deep regret that we have to announce a closing down sale. As you are all aware, recent trading has been very difficult.
"We cannot express just how much we have appreciated all the support our loyal customers have given over the years.
"And we would like to thank all of our past and present staff for their amazing effort who made OneUp what it was, we could not have done it without you."
Vouchers will be honoured until the end of the day.