Mackerel dispute: Richard Lochhead calls for sanctions and mediator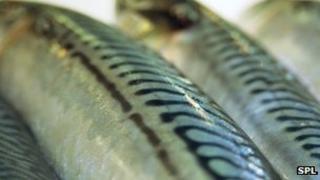 Fisheries Secretary Richard Lochhead has called for an independent mediator to be drafted in to help end the long-running dispute over mackerel quotas.
The Faroe Islands and Iceland have both set themselves large quotas of mackerel in recent years.
The EU has agreed - but not yet imposed - sanctions, in a bid to end the row.
Mr Lochhead is meeting European fisheries ministers in Brussels to call for the imposition of sanctions - and for an international mediator.
He said: "We continue to press for sanctions to help bring all countries back to the table.
"The appointment of an international mediator could help broker an agreement to end this dispute in an objective and neutral fashion."
Ian Gatt, chief executive of the Scottish Pelagic Fishermen's Association, said: "We would welcome any initiative that brings this dispute to a speedy and fair conclusion."
Mackerel is one of the most valuable stocks for Scottish fishermen.
It was recently downgraded from the Marine Conservation Society's list of fish suitable to eat.