MoD censured over cadet Kaylee McIntosh's death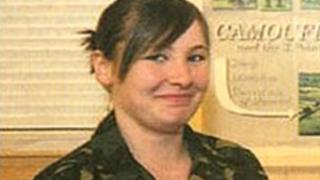 The Ministry of Defence has been censured over safety failings that led to the death of a 14-year-old girl during an army cadet exercise.
Kaylee McIntosh, 14, from Fyvie, Aberdeenshire, drowned after becoming trapped under a boat during a training exercise in Loch Carnan in the Outer Hebrides in 2007.
No-one had initially realised that Kaylee was missing.
The Health and Safety Executive said there were organisational failings.
HSE's director for Scotland and Northern England, David Snowball, said: "The various investigations into the circumstances surrounding this tragic incident revealed a number of organisational failings by the MOD.
"HSE's investigation has confirmed that primary failings during the activity amplified a number of significant underlying organisational failures.
"In particular, there was evidence of poor planning, leadership and execution of the exercise, coupled with inadequate oversight, procurement, monitoring and training arrangements. These all contributed to the events that took place.
"A Crown Censure is the maximum enforcement action that HSE can take and it serves to illustrate how seriously we take the failings that led to the death of Kaylee McIntosh."
Prevented death
In a statement, General Sir Nick Parker officially accepted the Crown Censure, acknowledging health and safety failures.
"Today, I have accepted a Crown Censure on behalf of the army in relation to the death of Cadet Kaylee McIntosh, while on cadet camp at Loch Carnan in August 2007," he said.
"We recognise the failings by the Army and, once again, we apologise unreservedly for how they contributed to Kaylee's death.
"The Army will continue to support the McIntosh family for as long as they need it."
Kaylee was one of 34 cadets on the training exercise when her boat overturned.
A fatal accident inquiry into the incident heard evidence over 10 days.
Sheriff Alasdair MacFadyen published his findings in 2009, saying that a number of precautions could have been taken that would have avoided the accident or prevented Kaylee's death.
In November, the man responsible for the expedition was fined £5,000.
Major George McCallum, 52, admitted health and safety charges at Inverness Sheriff Court.