Driver cries over friend's death in Aberdeenshire crash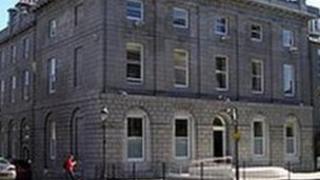 A man accused of causing death by dangerous driving wept in court as he described how he tried to save his friend's life following a crash.
William Webber, 36, died following an accident in a Porsche in Strichen, Aberdeenshire, in April 2011.
Douglas Calder, 38, denies causing his death by driving dangerously.
Mr Calder told the High Court in Aberdeen: "I was egging him on, telling him all the people who loved him, and saying 'squeeze my hand'."
The court has heard the car tumbled four-and-a-half times then landed upside down in a field.
The accused said of his recollection: "I'm inside the car, we're upside down and I'm kneeling on the ceiling.
"William is upside down, he's bleeding badly but I don't know where from, but he's still breathing."
"I remember putting my left hand on his chest. I remember doing one compression.
"I remember not seeing William but holding his hand, I was egging him on, telling him all the people who loved him and saying 'squeeze my hand, c'mon squeeze my hand.
"The next thing I'm in an ambulance strapped to a board - I'm immobile."
'Slowed down'
Mr Calder said the last thing he could clearly remember before the accident was doing 60mph to 65mph approaching a bend when he felt the car dip.
The court also heard evidence from paramedic Ian Mill who was called to the scene of the one-vehicle collision.
He told the jury that he had asked Mr Calder what speed he had been travelling at.
Mr Mill told the court: "His comment to me was he had slowed down to 70mph."
Defence counsel David Moggach asked Mr Calder if Mr Webber had told him to curb his speed on the road.
Mr Moggach said: "Did he ever say 'slow down you are going to fast for this road' or point or anything like that?"
Mr Calder replied that he had not and that at the time he personally had no concerns driving the stretch of road at 60mph.
The trial continues.