Snow and ice remain problematic in north east of Scotland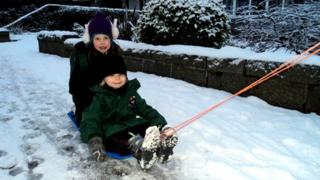 The north east of Scotland is facing another day of snow disruption.
Many roads throughout the area remain affected and the winter weather is causing problems with pupil transport at more than 50 schools in Aberdeenshire.
Some parents have been pulling children to school on sledges rather than face driving in heavy traffic.
Grampian Police said the overall picture did not appear to have worsened overnight.
Gritters have been out in force across the region.
Fresh snow is being forecast in the area on Friday.
Gillian Duncan, pulling Kate and Alex to school in Aberdeen on a sledge, told the BBC Scotland news website: "It's the quickest way."
To access more information from your mobile, visit the BBC Weather and BBC Travel News sites.
The enhanced content on this page requires Javascript and Flash Player 9
Map Key
Land
Cloud
Lakes, Rivers & Sea
Fog
Light
Heavy
Frost
Light
Heavy
Pressure Fronts
Cold
Warm
Occluded
Rain
Light
Heavy
Extreme
Snow
Light
Heavy
Temperature tab only
Temperature (°C)
More details from BBC Weather