Workers being taken off Taqa's North Sea Cormorant Alpha platform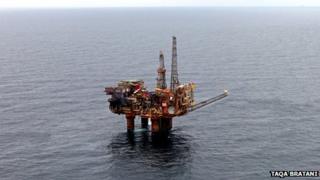 Workers are being taken off a North Sea platform after hydrocarbons were detected in one of its legs, it has been announced.
The incident - understood to involve oil - is at Taqa Bratani's Cormorant Alpha platform, which is about 94 miles off Shetland.
There are 159 people on board and all are said to be safe and well.
All non-essential crew are being taken off the installation, and the platform shut down, as a precaution.
Source investigation
The hydrocarbons are said to be contained within the platform leg and none have been released into the sea.
A technical team is investigating the source.
The non-essential personnel are leaving the platform on scheduled helicopter flights.
The hydrocarbons were found late on Monday afternoon.