Snow continues to cause problems in north east of Scotland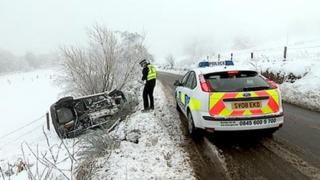 Snow and ice have continued to cause travel problems throughout the north east of Scotland for a second day.
Many roads are described as hazardous, including the A90 north and south of Aberdeen, and traffic in the city itself has been busy
There have been a number of minor accidents, but no serious injuries. They included a car landing on its roof on the B979 near the Tyrebagger.
Transport to at least 15 Aberdeenshire schools has been affected.
And Aberdeen International Airport has already seen some cancellations affecting flights.
There were also problems being experienced on routes in the Scottish Borders.
Snow was reported to be affecting the likes of the A1, A68 and A701 in the region.
Have you experienced snow problems on Tuesday, or captured any eye-catching images?
You can send your pictures to the BBC Scotland news website at newsonlinescotland@bbc.co.uk
Please ensure when filming or photographing an incident that you make your safety and the safety of others a priority.
If you submit an image, you do so in accordance with the BBC's Terms and Conditions.
To access more information, from your mobile, visit the BBC Weather and BBC Travel News sites.
The enhanced content on this page requires Javascript and Flash Player 9
Map Key
Land
Cloud
Lakes, Rivers & Sea
Fog
Light
Heavy
Frost
Light
Heavy
Pressure Fronts
Cold
Warm
Occluded
Rain
Light
Heavy
Extreme
Snow
Light
Heavy
Temperature tab only
Temperature (°C)
More details from BBC Weather