Burning of the Clavie event held in Burghead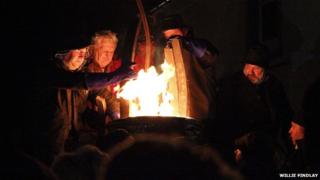 The traditional Burning of the Clavie event has been held at Burghead in Moray.
The clavie, which is a half-cask filled with wood shavings and tar, is set alight.
The elected Clavie King and his helpers parade the burning barrel through the streets before it becomes a fire beacon on nearby Doorie Hill.
Getting of a piece of the clavie is said to bring good luck for the coming year.
The event dates back to at least the 1750s.
Dan Ralph has been Clavie King since 1988. He told BBC Scotland the tradition marked the old Scotch New Year on 11 January.
He said: "The clavie is carried on the heads of one of the crew around the old part of Burghead, around the harbour, refueling a couple of times, followed by thousands of people.
"Then we end up on Doorie Hill, on the clifftop, from where the clavie can be seen seawards from a far, far distance. I would say from Caithness and Sutherland, and Banffshire, as well as Inverness-shire, to signify that this is the new year."
When the SNP's Richard Lochhead was sworn in as Moray's MSP in 2006 at Holyrood, he carried a piece of the clavie.
He later explained: "Moray is a community steeped in history, culture and tradition. I'm proud to carry with me a piece of the clavie from Burghead to serve as a reminder of this over the coming weeks and months."