Plan for Aberdeen begging and busking by-laws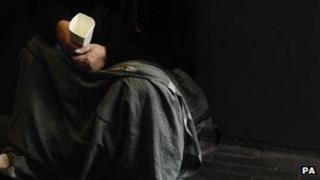 Any by-law banning street begging in Aberdeen would only worsen the problems of some its most vulnerable people, a charity has warned.
The city council's administration wants the ban.
Scott Baxter, from homelessness charity Aberdeen Cyrenians, said many who beg are forced to do so because they have no other means of getting money.
Meanwhile, the council is also considering regulating the city's buskers.
They could be made to go through an auditions process.
The authority is looking into the move as part of the same process as the begging by-law proposals.
'Underlying causes'
A Scottish government spokesperson said: "We always consider fully any local authority proposal for by-laws and we have not received anything from Aberdeen City Council.
"However, we have made clear previously that in general terms, for anyone begging in an aggressive manner and behaving in a manner that constitutes a breach of the peace or using threatening and abusive behaviour, a range of existing criminal laws can be used to prosecute them for this behaviour and we support our police and prosecutors in exercising their judgement based on the circumstances before them.
"We do not support attempts to criminalise the act of non aggressive begging and we would not support any local authorities who wish to introduce such a by-law within their areas.
"We consider that a multi-agency approach is best for dealing with begging so that the underlying causes of people begging in the first place can be tackled - such as drug dependency and alcohol dependency."