Renee Slater on trial in Aberdeen over 'election dummy'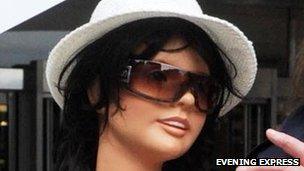 The trial of an Aberdeen woman accused of entering a mannequin as a candidate in last year's city council election has started.
Renee Slater is alleged to have put the name Helena Torry forward to stand in the May election.
Returning officer Crawford Langley told Aberdeen Sheriff Court he had taken nomination papers from the accused an hour before the close of nominations.
The trial is set to continue on Thursday.
The court heard the papers described the accused as the agent for Helena Torry and affirmed that the named individual lived at the same address in Torry as Ms Slater.
Mr Langley said there was very little small talk when the papers were lodged which he described as unusual.
He said: "Different agents react to the nomination process in different ways and there is normally some sort of interaction.
"There was nothing of the sort in this case."
He said a change was made to the papers in the returning officer's presence but that it was not his duty to declare whether the facts on the form were correct.
He said information was received the following afternoon which led to the Notice of Polls, which lists the candidates, having to be republished and the nomination forms being passed to the police.
Related Internet Links
The BBC is not responsible for the content of external sites.