Fireballs raise flooding support money in Stonehaven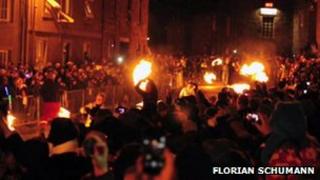 A collection at the annual Hogmanay fireballs ceremony in Stonehaven has raised about £7,500 for those affected by flooding in the town just before Christmas.
People had to leave their homes after the River Carron burst its banks, resulting in waist-high water levels and serious damage.
A fund has been set up to help those who suffered.
Fundraising organisers said more money was expected to come in.
The Aberdeenshire town was hit by similar flooding problems in 2009.