Stonehaven relief fund set up for flood victims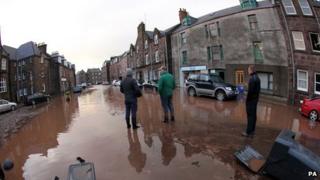 A flood relief fund is to be established for people in Stonehaven affected by recent severe weather.
A recovery group set up in partnership with Aberdeenshire Council decided on the plan on Thursday afternoon.
It also reviewed progress in the town's clean-up operation and preparations for Hogmanay events.
The annual Fireballs parade is to go ahead and it is hoped that views from the High Street will be largely unaffected.
There will, however, be a reduction in capacity at the harbour because of storm damage.
Advice
Donations for those whose homes were flooded are still being accepted at Stonehaven Town Hall.
A flood advice centre, operated by the Scottish Flood Forum, has been set up at the council's housing office in Allardyce Street.
William Munro, the council's area manager, said: "The recovery group held a very constructive meeting this afternoon.
"As well as looking at the short-term efforts to clear-up the town, it was agreed that a flood relief fund should be created to help those in greatest financial difficulty.
"The response to appeals for public support, both in terms of volunteering and the donation of furniture and gifts, has been overwhelming."