Co-op airlifts food supplies to Shetland Islands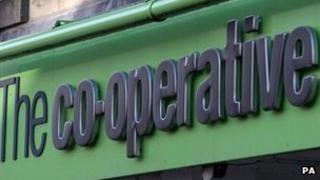 The Co-op has become the latest retailer to airlift supplies of food to Shetland after sailings were disrupted by severe weather.
A twin engine transporter plane made two trips from Aberdeen to the islands on Sunday.
It carried more than 40 pallets of products, including turkeys and other festive food, for its stores in Brae and Lerwick.
Last week, Tesco sent a Hercules transporter with supplies to Shetland.
Islanders had stripped shelves bare of produce after sailings to or from the islands were cancelled due to strong winds and high seas.
The Co-operative Food's regional stores director, John McNeill, said: "It is one of the busiest times of year for us and we had to pull out all the stops to make sure our stores on Shetland, as well as across the Highlands and Islands, were stocked in time for Christmas.
"There had been no sailings to Shetland for several days because of the gales and high seas and we decided to take this extreme measure to make sure our Shetland stores had the supplies they needed to meet our customers' needs."
He added: "Everyone involved went the extra mile to get the job done and at one point we were even talking directly to the air traffic controllers to ensure the flights went ahead.
"But everyone worked really hard as a team both on Shetland and on the mainland to make sure the deliveries got through in some very difficult conditions."