Tesco airlifts supplies to restock Shetland shelves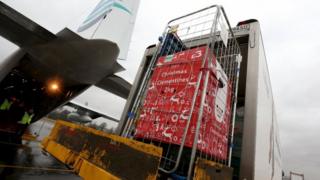 A retailer has airlifted supplies of food to Shetland because the usual ferries and freight boats have been disrupted by the weather.
There have been no sailings to or from the islands for two days due to strong winds and high seas.
Operator Serco Northlink said it was unlikely anything would now move until Christmas Eve at the earliest.
Tesco said islanders had stripped shelves bare of produce. The firm chartered the plane to help restock.
The Hercules transporter flew from Norway to Edinburgh. It was packed with food overnight and it then flew to Shetland on Saturday afternoon.
Department for Transport restrictions were lifted to allow the flight to take off from Edinburgh Airport at short notice, due to the nature of the situation on Shetland.
A further Hercules delivery of supplies was due to take place on Saturday evening.