Aberdeen businessman Alan Massie wins court order against SNP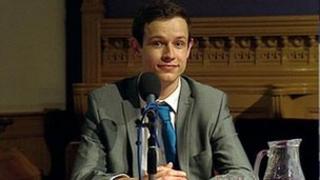 An Aberdeen businessman has secured a court order against the SNP and former city council leader Callum McCaig from disseminating material he alleges defames him.
A judge granted Alan Massie an interim interdict against the party and Mr McCaig from making and publishing such statements.
Mr Massie has raised a damages action at the Court of Session in Edinburgh.
The court order is expected to be appealed.
The Labour Party donor claims that the statements in question are false and defamatory.
Mr Massie has a shareholding in property development firm Carlton Rock, which has a proposal due to be discussed by the city council.
Lord Brailsford was told that Mr Massie as an individual had donated £11,500 to the Gordon constituency Labour Party.
'Unwarranted fetter'
The judge said that as he understood it the donations were made transparently and in accordance with Electoral Commission rules.
Cllr McCaig had earlier issued a press statement and an article appeared on an Aberdeen SNP website.
Mr Massie's counsel, Alan Summers QC, told the court that material produced had used "the language of debt and obligation".
Roddy Dunlop QC opposed the move for an interdict, claiming that it would be "a quite unwarranted fetter on the freedom of political speech".
Lord Brailsford said he was satisfied that the order should be made.
The judge said he was not satisfied that the press statement made by Mr McCaig in October and repeated on the website was covered by qualified privilege.
Mr Dunlop said the decision would be appealed.
An SNP spokesperson said: "It would be inappropriate to comment pending the appeal."