Vos Sailor: Crewman death vessel towed ashore with body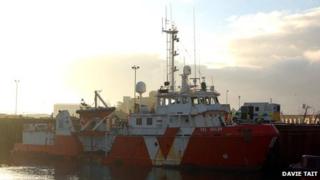 An oil industry supply vessel on which a crew member died in North Sea during the weekend storms has been towed ashore.
Eleven other crew were winched to safety from the Vos Sailor after it was damaged and took on water about 120 miles off Aberdeen on Friday.
The Vos Sailor arrived at Fraserburgh harbour on Monday night.
The body of the dead crewman was on board.
Vroon Offshore Services said in a statement: "This morning authorities are in the process of recovering the body of the crew member who suffered fatal injuries onboard emergency rescue and response vessel Vos Sailor.
"The body of the crew member will be returned to his family by the authorities in due course.
"Vroon Offshore Services will offer its full cooperation to authorities conducting an investigation into the exact circumstances of the fatal incident.
"Management and staff wish to offer their deepest condolences to their colleague's family. The company's thoughts are with his relatives, friends and fellow crew members.
"Vroon is offering its support to the family in these extremely difficult times."
A winchman who stayed aboard the vessel during the operation continued to help despite breaking a bone in his foot.
Bond Offshore Helicopters said the actions of the crew saved lives.