Northern Isles ferry strike suspended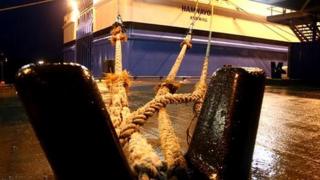 Northern Isles ferry staff have suspended their campaign of strike action over job losses after reporting progress in talks with management.
RMT union members on Orkney and Shetland routes voted for action on various dates up to 30 December.
They held their first 24-hour strike on Friday but now say they will suspend action after positive talks and as a gesture of goodwill to ferry users.
Operator Serco NorthLink has said it is not planning compulsory redundancies.
RMT general secretary Bob Crow said: "We have now been able to make significant progress in discussions with Serco.
"We have asked the company for a number of assurances which have been met and in an effort to make progress and as a gesture of goodwill to the island communities we have agreed to a suspension of all action to allow further discussions to take place."
However, he added that if further progress was not made the union would have no hesitation in issuing notice of resuming action.
Shetland Lib Dem MSP Tavish Scott said: "Shetland has no alternative shipping service so a strike should never be undertaken lightly.
"I trust the union will now put the needs of the Islands at the top of their list of calculations for the future."
Transport Minister Keith Brown said: "I have already stressed that this dispute must be resolved quickly to maintain lifeline services for our island communities.
"Given the recent weather-related disruption, we hope that dialogue continues to bring this dispute to an end with no further impact for those who depend on our ferry services."