Vos Sailor: Salvage attempt after crewman's death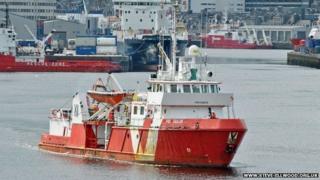 A tug has been sent to recover an oil rig emergency rescue vessel which lost a crew member in North Sea gales.
Eleven other crew were winched to safety from the Vos Sailor after it was damaged and took on water about 120 miles off Aberdeen on Friday.
Grampian Police said one man suffered fatal injuries. His body has not yet been recovered.
The Vos Sailor is still adrift in the North Sea and a salvage team will tow it to port.
Police said the vessel suffered "significant damage" and that a tug boat had been sent overnight from Invergordon to tow it to port.
A mayday call was issued at 04:30 on Friday when winds in the area were reported to be more than 70 knots.
Bond Offshore Helicopters said one of the winchmen involved played a key role despite sustaining a broken bone in his foot.
During the rescue, the winchman remained on the deck of the stricken vessel until the remaining crewmen had been airlifted.
The 42.5m boat, operated by Aberdeen-based Vroon Offshore Services, was in the Balmoral oilfield at the time.
A Vroon spokeswoman confirmed it was adrift but had a support vessel with it.
The firm said on Saturday it was contacting the crewman's next of kin.