Vos Sailor: Crew member dies and 11 rescued in North Sea gales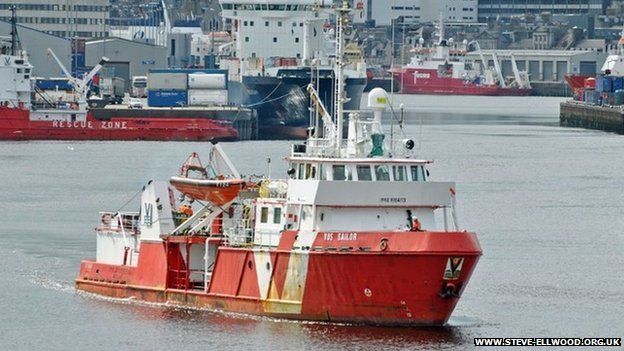 A crew member has died after an oil rig emergency rescue vessel in the North Sea was damaged by large waves.
Eleven other crew members were winched to safety from the Vos Sailor after the alarm was raised at about 04:30.
The vessel had been damaged and took on water in rough seas some 120 miles off Aberdeen, the coastguard said.
Six other vessels and three helicopters were sent to the scene. Non-essential staff have been evacuated from a nearby rig.
A spokesman for Grampian Police said the Vos Sailor had suffered "significant damage".
He added: "It appears at this time that one crew member has suffered fatal injuries.
"Next of kin have been informed of this situation although no details can be confirmed at this time. Efforts are ongoing to recover the vessel which will be brought in to Aberdeen harbour in due course.
"As is normal in such circumstances a report will be submitted to the procurator fiscal."
The coastguard said the Vos Sailor was no longer thought to be at risk of sinking, and a decision would be taken on whether it would be towed to port.
The 42.5m Vos Sailor was built in 1981 and is operated by Aberdeen-based Vroon Offshore Services. It was in the Balmoral oilfield when it got into trouble.
A statement on the company's website said: "Vroon Offshore Services are in the process of contacting the next of kin of the crew of Vos Sailor.
"The company's emergency response team has mustered and - in close co-ordination with the Maritime Coast Guard Agency - is taking all measures to bring the vessel back under control."
Non-essential staff were evacuated from the North Sea Producer, which is the closest rig to the incident, as a precaution, but it is not thought to be in any immediate danger of being struck by the drifting vessel.
Conditions in the area were said to have been very rough overnight, with winds of more than 70 knots.
Related Internet Links
The BBC is not responsible for the content of external sites.