Oldest person Janet Roberts leaves £1.4m in will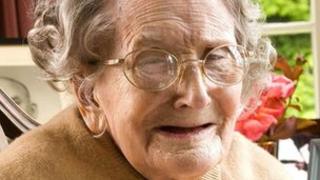 A Moray woman who was Scotland's oldest person when she died at the age of 110 has left £1.4m in her will.
Janet Sheed Roberts, who celebrated her 110th birthday last August, died in April.
Mrs Roberts was born in Cabrach in the summer of 1901 and was the last surviving granddaughter of William Grant, who founded the Glenfiddich distillery in Dufftown in 1886.
She lived near the distillery, and had a whisky named after her.
Eleven bottles of the Glenfiddich Janet Sheed Roberts Reserve were produced to mark her 110th birthday.
Mrs Roberts studied at both Glasgow and Edinburgh universities, reading law at Edinburgh, where she was the only woman in her class.
She left her fortune and belongings to her friends and family.