Human remains found after blaze at Longside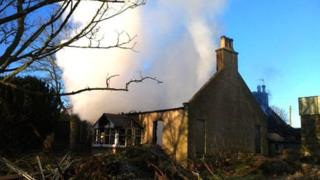 Human remains have been discovered in an Aberdeenshire farmhouse which was destroyed by fire.
About 30 firefighters were called to the blaze at Dumpston Farm, Longside, on Wednesday night.
An 83-year-old man was taken to hospital suffering from the effects of breathing in smoke.
A joint police and fire service investigation into the cause of the fire is under way.