First Aberdeen tables new bus pay offer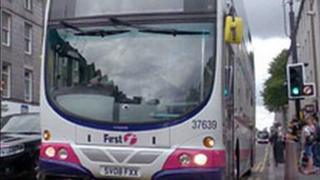 First Aberdeen has tabled a revised offer in the ongoing bus pay dispute, amid a threat of strike action.
Staff, including drivers and cleaners, voted in favour of strike action earlier this month.
Strike action was due to start on Saturday, but had been suspended after "productive" talks on Tuesday.
Further talks took place on Wednesday between management and the Unite union. Unite will put the offer to its members.
A ballot will take place on Thursday with the result expected on Friday.
First Aberdeen general manager Duncan Cameron said: "We've held productive talks over the last couple of days with both parties prepared to negotiate.
"We have put on the table a two-year deal, backdated to April, which will be paid between Christmas and New Year.
"That offer is one that the business can afford and which also increases our drivers' take-home pay without making any changes to current working practices."
He added: "I hope that the result of the ballot is a positive one and our customers can be spared the inconvenience of industrial action over the festive period."