Appeal for new home for 'doting' husky pair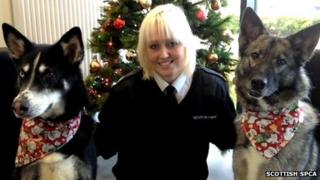 A special pre-Christmas appeal has been made for a new home for two huskies.
The Scottish SPCA said Cleo and Mirren are so closely bonded that they need to be homed as a pair - and have now been in the charity's care in Aberdeenshire for more than 200 days.
It is hoped they can be found a loving home in time for Christmas.
Graeme Innes, the Scottish SPCA's Drumoak centre manager, said: "It would be very unfair to split these dogs up as they dote on each other completely."
'Pair of comedians'
He explained of the four-year-olds: "We have had lots of people enquire about rehoming the dogs separately, but no-one has yet expressed any interest in taking them both together.
"Cleo is the shy one who leans on Mirren for support when she's feeling a bit unsure while Mirren is a bubbly, fun loving dog who's outgoing and loves attention.
"With Mirren's help Cleo's daft, playful side shines through and together they are a pair of comedians who will entertain you for hours.
"Their antics regularly make us laugh out loud and we know they would bring a huge amount of love, joy and loyalty to one lucky family.
"We know it's a big consideration to take on two active adult dogs, and not something we'd encourage anyone to do on a whim, however, we're sure there must be someone out there who has an understanding of the husky breed and the time to invest in these gorgeous girls."