WWF Scotland lifetime award for former Grampian Police officer Alan Smailes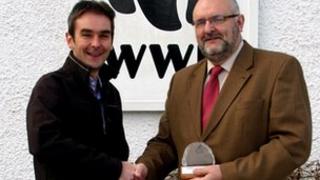 A retired Grampian Police officer has received a lifetime achievement award for his work against wildlife crime.
Alan Smailes, a former superintendent, has been honoured by WWF Scotland and the Partnership for Action against Wildlife Crime (Paw).
Mr Smailes said: "I believe we have something special in Scotland and it is our duty to protect it for future generations."
Dan Barlow, head of policy at WWF Scotland, praised Mr Smailes.
The retired officer played a leading role in the efforts of Grampian Police to combat wildlife crime.
This included increasing awareness of threats to wildlife and helping launch a schools education pack.
WWF Scotland said Mr Smailes' innovation changed the way wildlife crime is addressed, creating crucial processes for gathering evidence and intelligence.
Minister for Environment Paul Wheelhouse, who is also chairman of Paw Scotland, said: "It is through the dedication and hard work of individuals like Alan, supported by communities, that we can ensure Scotland's precious wildlife is protected."