Woman dies in car and van crash on A96 at Huntly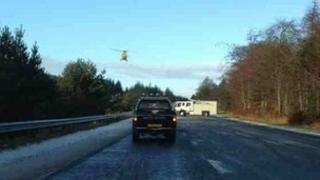 A woman has died after a crash involving a car and van on the A96 in Aberdeenshire.
Police were called to the scene near the Peregrine Falcon Centre at Huntly at 10:35.
The 28-year-old woman, who was driving the car, sustained fatal injuries. The 59 year old male driver of the van taken to hospital and treated for a broken sternum.
The road was closed for six hours while investigations were carried out.
Insp Ewan Innes from Grampian Police said: "Inquiries are on-going and it is too early to speculate as to the cause of the collision at this stage.
"There are a number of witnesses that we will be speaking to over the next few days, however, I would ask that anyone who may have witnessed the collision who has not already been in touch with us, or anyone who may have been aware of either vehicle being driven on the A96 prior to the collision, to contact us so that we can speak to them."