Findhorn in £2.3m Heriot-Watt University green energy research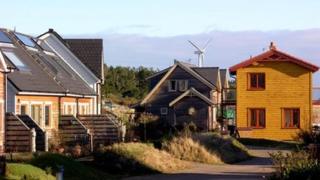 The Moray eco-village of Findhorn is to play a key role in £2.3m green energy research led by Edinburgh's Heriot-Watt University.
The researchers want to develop a way of synchronising the demand for locally-generated energy on a community scale.
The project, funded by the European Commission, will be piloted over three years in Findhorn as well as other eco-villages in Portugal and Italy.
Dozens of homes will initially be used.
Dr Edward Owens, who is heading the research, said: "Thousands of householders and businesses have installed renewable energy systems in the last few years.
"However, often the energy is not generated at times of peak demand. Finding a way to match periods of supply with periods of demand will create much more efficient energy systems."
He added: "The system will forecast renewable energy supply and energy demand, at both individual building and community levels.
"Groups of buildings in a community will then be connected via our smart energy hub and a series of energy controllers in each building.
"Residents will then be asked to plan when they use energy, such as using hot water or a washing machine, to maximise the uptake of community-generated renewable electricity.
"They will also be able to read 'recommendations' from the community hub to inform them when locally generated energy is available for them to use."
Michael Shaw, one of the first to join the Findhorn community, and now a trustee, said: "We're delighted to be one of three eco-villages piloting the ORIGIN project.
"This innovative scheme enables the matching of energy generated within the community from wind turbines, solar panels, biomass district heating and heat pumps, with the energy requirements of our public buildings, community homes and businesses.
"It will also put the Findhorn Foundation Community on the map as a centre of excellence for designing and building one of the most energy efficient and low-carbon village-scale environments in the country."
The Findhorn community recently celebrated its 50th anniversary.
The research starts at Findhorn, Damanhur in Italy, and Tamera in Portugal this month.