Sullom Voe set for £300m BP investment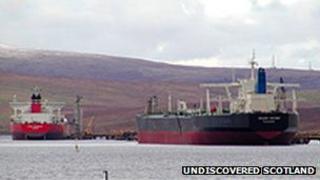 BP and its partners are set to invest more than £300m at the Sullom Voe terminal in Shetland.
The oil company plans to build a new plant to process gas from the west of Shetland over the next five years.
It is also to carry out a major maintenance programme to replace ageing plant and pipe work. About 600 contractors will be taken on to carry out the work.
It is hoped the investment will help secure the future of the site.
Terminal Manager Arthur Spence said: "Given the scale of the work we are going to do on the plant here, and then the potential gas plant that's going to be built at the terminal, we could be talking about investment in excess of £300m.
"We know we have a long and bright future - we have got to start planning for that now so we are going to conduct a major upgrade on the site over the next three to five years around the fabric maintenance of the facility."
The terminal is operated by BP and handles production from more than two dozen oil fields in the East Shetland Basin, between Shetland and Norway.
About 20 different companies have interests in the facility, which receives production through the Brent and Ninian pipeline systems.