Super Puma ditching inquiries to be combined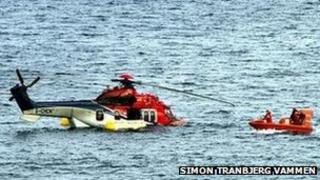 The investigations into two separate Super Puma EC 225 helicopter ditchings are to be combined.
The first incident took place off Aberdeen in May, the other off Shetland in October.
The Air Accidents Investigation Branch (AAIB) said they had decided to combine both investigations, which had never happened before.
They said they were no closer to identifying the root cause of cracks in the gearboxes of the aircraft.
In the May incident, all 14 people on board the Super Puma were rescued when their helicopter came down about 30 miles off the coast of Aberdeen during a flight to an oil rig.
Then in the October ditching, all 19 people on board were rescued safely after the Super Puma put down in the sea.