'Donald Trump arrest' complaints made to police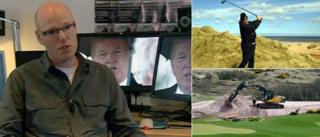 A total of 276 complaints have been received by Grampian Police over its arrests of two film-makers working on a documentary about Donald Trump's golf development.
The film You've Been Trumped was broadcast by the BBC on 21 October.
It showed film-makers Anthony Baxter and Richard Phinney being arrested by officers on the Menie estate in Aberdeenshire.
The force has acknowledged that the arrests could have been better handled.
The film was broadcast by the BBC again early on Tuesday.
The arrests were part of an investigation into an alleged breach of the peace.
Mr Baxter said he and Mr Phinney had been doing their jobs as journalists.
Mr Trump has criticised the documentary.
Design work for a second golf course close to the Trump International Links is now under way.