Major George McCallum fined £5,000 over Kaylee McIntosh death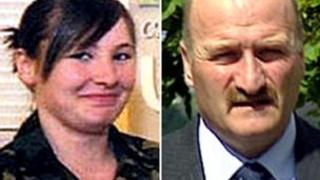 The man responsible for an army cadet expedition which led to a teenager's death has been fined £5,000.
Kaylee McIntosh, 14, from Fyvie, Aberdeenshire, drowned after becoming trapped under a boat during a training exercise in Loch Carnan in the Outer Hebrides in 2007.
Major George McCallum, 52, earlier admitted health and safety charges at Inverness Sheriff Court.
Kaylee's parents said she should still be alive.
They have called for criminal proceedings to be brought in respect of their daughter's death.
No-one had initially realised that Kaylee was missing, and she was under the boat for 90 minutes before her disappearance was noticed.
She had been wearing the wrong type of life jacket, which resulted in her being pinned beneath the boat.
Kaylee was one of 34 cadets on the training exercise when her boat overturned.
Sentencing McCallum, Sheriff William Taylor described the scene of the tragedy as an "overall shambles which resulted in the death of a beautiful young woman".
And he added that he hoped the sentencing would not be the end of the matter.
Kaylee's parents, Derek and Lesley McIntosh, said in a statement: "We would like to say that today, like the many other steps there have been on our road to justice, is about one person, our daughter Kaylee.
"We will never forget her, her warm smile, infectious laughter and the love she gave us. We think of her every minute of every day.
"No parent should have to endure what we have - the taking away of one so young and so dear for the very worst of reasons.
"Those she thought were there to provide for her safety, to look after her, to see her back to the warmth, love and safety of her home, could not be bothered taking numerous basic, yet fundamental, precautions any one of which, if taken, might have seen Kaylee still with us today."
'Others culpable'
They added: "We would like to thank Sheriff Taylor for his kind words and for making us feel he is as outraged as us regarding what happened to Kaylee.
"We can now but hope that the Crown Office ensure that outstanding criminal proceedings are now swiftly advanced against others culpable in respect of Kaylee's death."
However a Crown Office spokesperson said: "The death of Kaylee McIntosh was tragic and avoidable.
"It has been the subject of a full inquiry involving the Health and Safety Executive, the police and the Crown.
"The death has been the subject of a fatal accident inquiry and the successful prosecution of Major McCallum for a breach of his Health and Safety responsibilities.
"The MoD is the subject of a censure issued by the Health and Safety Executive.
"Crown Counsel have concluded that on the available evidence there is insufficient evidence to prosecute any others involved in the death. Kaylee's parents have been advised of this decision."
A fatal accident inquiry into the incident heard evidence over 10 days.
Sheriff Alasdair MacFadyen published his findings in 2009, saying that a number of precautions could have been taken which would have avoided the accident or prevented Kaylee's death.