Findhorn eco-community marks 50 years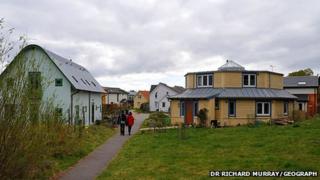 The Findhorn Foundation has attracted admiration and ridicule with its ethos of inner spirituality and environmental care. It is 50 years since three friends moved to a caravan in Moray, after listening to "inner voices", and began the Findhorn project. So how did a "wacky" commune in north east Scotland become a model for sustainable living?
For people interested in spirituality and being environmentally sustainable, it would seem an unlikely place to find a sanctuary.
The Findhorn Foundation's neighbours include a sprawling former RAF station with its high security fencing and green bomb-proof aircraft hangers.
Nimrod spy planes flew out of Kinloss until 2010 and today it serves as a base for the British Army's 39 Engineer Regiment.
On the nearby beaches, there are relics of World War II defences.
Anti-tank blocks sit among the dunes and crumbling pillboxes lie half submerged in the sand where the tide comes in, while tanks lost during rehearsals for D-Day lie on the sea floor.
But amid this military landscape is the Findhorn Foundation promoting peace, spiritualism and eco living.
The organisation has a 61-home eco village and a building called the Universal Hall where The Happy Movie, a film about happiness, was shown last month.
There are solar panels, wind turbines to generate electricity, organic gardens and an ingenious waste water treatment system that was the first of its kind in Europe.
Year-round the foundation holds workshops with titles such as primal painting and exploring "elderhood" and attracts thousands of visitors.
Conferences have been held at the foundation on the re-introduction of wildlife once native to Scotland, and in 2006 it became a United Nations training centre specialising in environmental policy and sustainability.
The organisation has estimated it is worth £4m each year to the local economy but it started life in a little blue and white caravan.
Peter and Eileen Caddy moved their three young sons into the caravan in Findhorn in 1962 after the couple lost their jobs at a hotel in nearby Forres.
Their friend Dorothy Maclean also moved in with the Caddys. The three had a shared interest in spiritualism and also growing their own fruit and vegetables.
The garden they created attracted interest from visiting horticulturalists and stories spread of exceptionally large vegetables, including 40lb cabbages, grown by summoning "nature spirits".
People with similar beliefs to the Caddys and Dorothy started to move into the area and a community formed.
'Wacky people'
In 1972, it was formally registered as a Scottish charity under the name Findhorn Foundation and by the 1980s it had about 300 members.
Michael Shaw, one of the first Scots to join the Findhorn community, is now a trustee.
He said: "It was very west coast Californian, coming out of the Hippy generation, lots of alternative everything."
He said the community was a magnet for "wacky people".
"These are people who are at the edge of building something new and have been for all these years," Mr Shaw said.
"I praise the wacky individuals, it is wacky individuals who come up with the many inspirations and the new ideas.
"You don't need to be crazy, but you do need to be a little bit out of the ordinary if you are going to build something new."
Peter Caddy died in 1994 and Eileen in 2006. Dorothy lived in North America for a number years before returning to the community where she still lives today.
One of the Caddys' sons, Jonathan, told BBC Scotland that over the 50 years the foundation had grown from an idea into a real village.
He said: "There's really something substantial here, physically. The hall here took 10 years to build. I think it is a real demonstration of something different."
Mr Caddy added: "It has much to do with people getting in touch with the non-tangible world, the spirit world if you like.
"It's to do with people's connection with nature whether that be 40lb cabbages or the eco village that is here."
The freethinkers of the sixties were swimming against the tide but now their ideas of environmental sustainability are mainstream.
"In some ways what is exciting is that it is no longer new," says Anna Rhodes Castro, director of the Findhorn Foundation.
"That is why now we can make a difference."