Sham wedding drug dealer Kizito Ugo Nwajeri jailed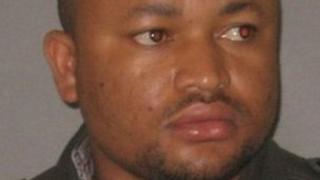 A drug dealer who was found guilty of marrying an Aberdeen woman to help him stay in the UK has been jailed for nine-and-a-half years.
Kizito Ugo Nwajeri, 31, a Nigerian national living in Bolton, had denied paying Kirsty Birnie to be his wife so he could extend his student visa.
He claimed he married for love, but was convicted under the Immigration Act.
He was also found guilty of involvement in Scotland's largest ever seizure of crack cocaine.
At the High Court in Edinburgh, judge Lord Kinclaven jailed Nwajeri for nine years for the drugs offence and a further six months for breaching immigration legislation.
He told him: "You played a significant role in the large-scale distribution of crack cocaine."
The judge said almost two kilos of the drug had been recovered, worth approximately £243,000, which the Nigerian had arranged to be brought by courier from Salford, in the Manchester area, to Aberdeen.
Lord Kinclaven said Nwajeri had sought leave to remain in the UK by "means of deception".
'Calculated individual'
The court heard that the home secretary is to consider his deportation.
Nwajeri had given Ms Birnie £2,000 to fly to Nigeria with him to get married in Lagos in 2010.
The Nigerian denied cash was ever exchanged, but Ms Birnie, 30, claimed she was told to "name her price" and handed a bible filled with money during a meeting at an Aberdeen cafe.
He was arrested following a surveillance operation by Grampian Police.
Following Nwajeri's earlier conviction, Det Ch Insp Alex Dowall had said Nwajeri was "a calculated individual motivated by personal greed who portrayed himself as a tutor of mathematics.
"However, enquiries established that he was the principal individual within an organised crime group.
"He used vulnerable individuals from Aberdeen to assist him in his drug dealing activities and also coerced a local woman into taking part in a marriage ceremony with him in Nigeria in an attempt to avoid immigration laws and remain within the United Kingdom."
Nwajeri's former girlfriend, Morven Hutcheson, 30, had previously told the High Court in Aberdeen how she had helped plan the illegal ceremony.
She admitted she had suggested her primary school friend Ms Birnie as a potential bride.
Nigerian wedding
Nwajeri had originally asked Ms Hutcheson to marry him so he could stay in Britain. But Ms Hutcheson said she was not in a position to accept a proposal because she was already married to a Nigerian man who had left her weeks before.
Ms Birnie, who works as a domestic at Aberdeen Royal Infirmary, said the plan "snowballed" after she accepted the £2,000 payment.
She said she took a flight to West Africa with the couple within weeks and spent her wedding night alone while her friend shared a room with her groom.
But Ms Birnie told the jury she became scared after watching a TV programme about people being jailed for sham marriages and tried to get a divorce.
Nwajeri denied opening a joint bank account with her after their wedding to help prove they were in a relationship and citing his marriage to apply for leave to remain in the UK.
He had also denied dealing cocaine at locations across Aberdeen between September 2010 and May last year, but was found guilty of the charge.