Scottish motorists given 'rural rush hour' warning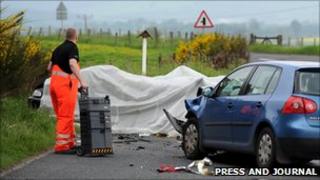 Scottish motorists have been warned of the dangers of "country roads rush hour" ahead of Road Safety Week.
Accidents are said to peak between 15:00 and 18:00 on rural routes.
June Ross lost her 22-year-old son Ian Buchanan in a crash on the B993 Kemnay to Monymusk road in Aberdeenshire in 2010.
She said: "Country roads can be unpredictable, so you need to tailor your speed to the conditions of that particular day and concentrate."
Mrs Ross co-founded support group Don't You Forget About Me (DYFAM) to assist relatives and friends of road crash victims in the north east of Scotland.
She added: "Far too many lives are lost each year and just by taking our time and staying alert on country roads, we can make a huge difference.
"Speed definitely played a part in Ian's accident, but it's important people remember that you don't have to be breaking the limit to put yourself and other road users at risk."
'Needless deaths'
The rural warning came from the Scottish government and Road Safety Scotland, ahead of Road Safety Week in Scotland which starts on Monday, with television and radio adverts being aired.
Transport Minister Keith Brown said: "Recent statistics show we are making good progress in driving down road casualties, with numbers at their lowest level since records began over 60 years ago.
"But while our roads are safer than ever before, there are still too many needless deaths and serious injuries.
"We have achieved much, but recognise there is still much to do, particularly in respect of working with young male motorists to make them aware of the perils of being distracted at the wheel."