No date for return of Super Puma EC 225 to service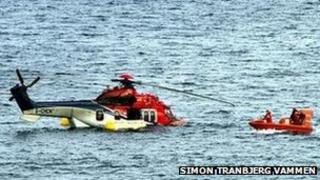 The manufacturers of a Super Puma helicopter which ditched off Shetland last month do not know when the model involved will be back in service.
All 19 people on board the Super Puma EC 225, part of the CHC Helicopters fleet, were rescued safely after it put down in the sea on 22 October.
The model has been grounded since the incident, which was caused by a cracked shaft in the main gearbox.
Manufacturers Eurocopter held talks with the industry on Thursday.
The chief executive officer of the Eurocopter group, Lutz Bertling, said it could be February at the earliest before "normal service" is resumed.
Eurocopter has already confirmed similarities between last month's ditching and a previous incident involving the same model of Super Puma off Aberdeen in May.
Mr Bertling said they needed to reassure passengers and get to the root cause of why the component was failing in the EC225.