Cat deaths warning over 'anti-freeze poisoning'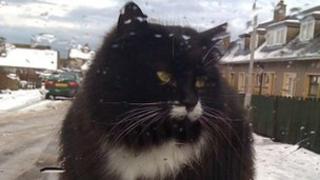 The death of cats from suspected anti-freeze poisoning in an Aberdeenshire village has prompted the Scottish SPCA to urge pet owners to be vigilant.
The latest incident in Sandhaven saw a cat called Ronnie put to sleep on the advice of a vet.
It followed previous deaths of three cats in the same area.
Senior Inspector Scott Elphinstone said: "The deaths of four cats from suspected anti-freeze poisoning is extremely concerning."
He said it was particularly worrying as Sandhaven is such a small village and the animals all came from the same two area - Clinton Place and Forbes Road.
He added: "Without any other evidence we cannot say whether these poisonings were deliberate or accidental but there is obviously a source somewhere nearby.
"It may be that someone has simply spilled some anti-freeze while servicing their car or cleaning out their garage, but we also have to consider that someone could have left this substance out in order to cause animals harm.
"We want people in the area to be aware of the potential danger and we are urging pet owners to be vigilant if they are letting their cats out of the house."