Ducks returned after being stolen from Drumblade Primary School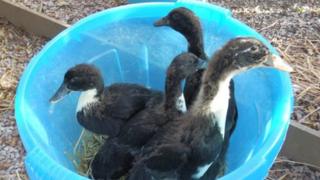 Four ducks stolen from an Aberdeenshire school have been found safe.
The six-week-old black and white runner ducks were taken from their cage at Drumblade Primary School, near Huntly, last Tuesday.
They were found in a ditch just under a mile away from the school, and were said to be "bewildered and confused".
Head teacher Fiona Nicolson said: "I would like to thank everybody who helped in the search for our feathered friends."
She added: "We are delighted that the ducks were found safe and well.
"They have had a warm bath, some food, and have settled back at the school."
Investigation continues
The disappearance of the ducks sparked a police appeal for information.
A Grampian Police spokesperson said: "We are delighted that the ducks have been found safe and well and have been reunited with the school children.
"Our enquiries into the circumstances surrounding the incident continue, and we ask anyone with information to come forward."