Major George McCallum admits charges over Kaylee McIntosh death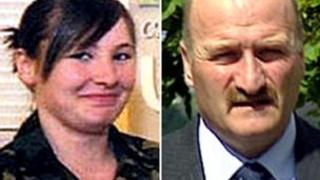 The man responsible for an army cadet expedition which led to a teenager's death has admitted health and safety charges.
Kaylee McIntosh, 14, from Fyvie, Aberdeenshire, drowned after becoming trapped under a boat during a training exercise in Loch Carnan in the Outer Hebrides in 2007.
Major George McCallum, 52, admitted charges at Inverness Sheriff Court.
McCallum will be sentenced later for the offences.
No-one had initially realised that Kaylee was missing.
She was under the boat for 90 minutes before her disappearance was noticed.
Kaylee was one of 34 cadets on the training exercise when her boat overturned.
'Long road'
She had been wearing the wrong type of life jacket, which resulted in her being pinned beneath the boat.
A fatal accident inquiry into the incident heard evidence over 10 days.
Sheriff Alasdair MacFadyen published his findings in 2009, saying that a number of precautions could have been taken which would have avoided the accident or prevented Kaylee's death.
A statement on behalf of Kaylee's parents after Friday's plea stated: "The family's position today is to give a guarded, cautious welcome. There's certainly no sense of triumphalism on their part.
"They view this as one more step on a long road to securing comprehensive justice for their daughter Kaylee.
"They are in a sense grateful to Major McCallum for what's he's done today, albeit at long last, to hold up his hands and admit his culpability to what happened to Kaylee.
"He has at least spared the family the ordeal of a lengthy legal hearing going over the agonising detail of Kaylee's last moments."
'Apologise unreservedly'
The Commander of 51 Scottish Brigade, Brig Paul Harkness, said the Army was "extremely sorry about the events that led to the tragic death of Cadet Kaylee McIntosh and for the loss suffered by her family in particular."
He added: "We apologise unreservedly for any failures by the Ministry of Defence which contributed to her death.
"The Ministry of Defence has already learned lessons from this tragic incident and taken steps to prevent a recurrence. When it becomes available we will review the Health and Safety Executive's report and take action to address any additional areas of concern.
"The Army remains committed to ensuring that the many thousands of cadets who enjoy adventurous and other forms of training each year do so safely, for their benefit and for the benefit of the wider community."