Sir Ian Wood warns of oil 'nightmare'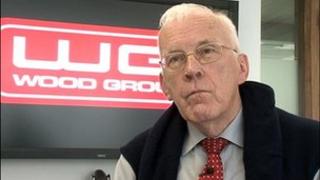 The oil industry needs to do all it can to avoid a "nightmare legacy scenario" of "here today, gone tomorrow, and worse off", Sir Ian Wood has warned.
Sir Ian recently retired as chairman of Aberdeen-based oil services firm Wood Group.
Speaking after receiving industry body Oil and Gas UK's lifetime achievement award, he urged young people to get involved in the industry.
Sir Ian said he was proud of the part he had played in the industry.
Speaking at a ceremony on Thursday evening, he said: "I've really enjoyed my time in the oil and gas industry - the challenging, high tech and entrepreneurial environment, constantly changing, run by risk orientated people with generally good judgement and very high quality management skills.
"My headline message for the youth of today - get involved. The North Sea oil industry will see you through your lifetime.
"We're undoubtedly the UK North Sea oil capital, but we mustn't fool ourselves that because we've got critical mass in the North Sea, we will automatically graduate to become a major Eastern Hemisphere oil and gas capital.
"As the North Sea moves towards later maturity, we must encourage our significant supply chain base to stay rooted here, and attract new industries, probably energy related."
'Nightmare legacy'
Sir Ian added: "If we don't get it right, history will rightly judge us harshly and particularly Aberdeen and the north east of Scotland.
"We must do everything we can to intervene and ensure that history doesn't record our oil era as here today, gone tomorrow, and worse off.
"That is the nightmare legacy scenario and one which we must all do our utmost to avoid."
He had been chairman of the company since 1982 and served as its chief executive from 1967 to 2006.
You can listen to an extended interview with Sir Ian about Wood Group, the future of the oil industry, and his new African tea venture on BBC Radio Scotland's Business Scotland programme on Saturday at 06:05, and again on Sunday at 10:05.