Connor Ward admits explosives charges after Banff evacuation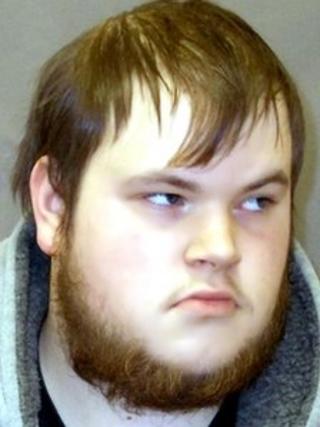 A man has admitted explosives charges after an incident which saw people evacuated from their homes in an Aberdeenshire town.
Connor Ward, 20, of Banff, bore a grudge against his father, who had fathered a child by his son's young ex-girlfriend, a court heard.
Ward told police "voices in his head" were telling him to kill his father.
Judge Lord Uist called for background reports, including a formal psychological assessment.
The High Court in Edinburgh heard that when police raided Ward's home they found an array of chemicals together with recipes for making explosive devices.
Neighbours had to be moved from their homes while Ward's flat was searched.
Advocate depute Tim Niven-Smith, prosecuting, said Ward had made repeated threats which were not taken seriously.
Eventually his mother found "The Do-it-yourself Gunpowder Cookbook" on a table.
She noted down the names typed on the labels of bottles in the flat and took the note to police.
Mr Niven-Smith continued: "The police at Banff thereafter consulted with specialists and it was established that the chemicals found had the potential to produce an explosive substance if mixed together and ignited."
On 18 May an exclusion zone was set up.
'Key ingredients'
The exclusion zone had "a significant impact" as local residents were evacuated from their homes for a long period, Mr Niven-Smith said.
At the same time, other officers visited Ward in Aberdeen's Royal Cornhill Hospital, where he was a voluntary patient, and he told them he intended to use a bomb to kill his father
Mr Niven-Smith said the bomb disposal squad found no trace of "a viable explosive device" but confirmed that the chemicals could be "key ingredients".
They also found ball bearings and nails which could have been used as shrapnel.
Ward admitted a breach of the Criminal Justice and Licensing (Scotland) Act by making threats, and possessing explosive substances in suspicious circumstances.
Sentence was deferred until December.